Back in 1986, we invented and shaped the field of 'applied computer vision' for computer-human interaction, and have continued as world leaders, inventing new video gesture control technologies ever since.
The company's multi-patented video gesture control technology (VGC) lets users engage multi-media content, access information, manipulate special effects, even immerse themselves in an interactive 3D virtual world – simply by moving their hands or body. We deliver Kinect-like gesture-control without the need to wear, hold or touch anything
In the past 30 years, GestureTek has installed well over 8,000 interactive multi-media displays, kiosks, exhibits, digital signs and
advertisements, virtual gaming systems and other interactive surface computing solutions, many with multi-touch interactivity.
Our technology is used in museums, science centers, amusement parks, trade shows, retail locations, bars & nightclubs, real estate presentation centers, corporate showrooms, boardrooms, digital signage networks and other public spaces such as airports and stadiums. We're also revolutionizing television production, game development, advertising, virtual videoconferencing, and even the healthcare sector, by applying our technology in unique and innovative ways.
GestureFX© Product Line
The revolutionary GestureFX product line offers interactive gesture controlled surfaces, projected onto any floor, wall, table or displayed via LCD, controlled with simple hand, foot & body gestures. Scalable to any size on any surface, GestureFX is prefect for digital signage, in-store entertainment, product info & immersive experiential environments. Enabled to share real-time media from tablets or mobile devices, along with beacon & custom content capabilities. GestureFX comes pre-loaded with a minimum of 50+ eye-catching special effects environments.
GestureTek offers creative and design services to customize and optimize your campaign. Our production team can help incorporate your ideas into any GestureFX interactive system, mixing 2-D and 3-D graphics, sound and video in any way.
GroundFX©
GroundFX is multimedia visual display system that projects incredible interactive special effects, games or advertisements directly onto any floor of any size. Utilizing GestureTek's patented GestureFX technology, users control dynamic multimedia interactive displays with simple gestures and body movements allowing for real-time motion control and interaction with display graphics. It's an engaging full-body interactive experience that immerses users in your message and endears them to your brand or campaign.

WallFX©
Stop people in their tracks by projecting dazzling special effects onto any wall or vertical surface. A dynamic, full-body interactive wall experience where the user controls interactive effects, advertising and games with simple hand and body motions is a definite crowd pleaser in location-based entertainment facilities, retail venues and public spaces.
---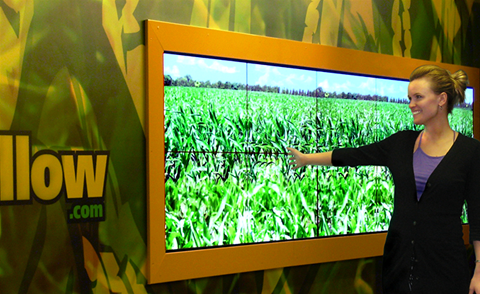 ScreenFX©
ScreenFX displays utilize a patented, camera-based system that actually looks out at the surrounding area and reacts directly to movement. Customers can't ignore digital signage that tracks their gestures and creatively responds with dazzling effects. As people pass by the dynamic and engaging ScreenFX display, they instantly notice their movement magically creating stunning changes to the graphical content.
ScreenFX can also be used on store front windows, creating head-turning interactive gesture controlled advertising displays.
---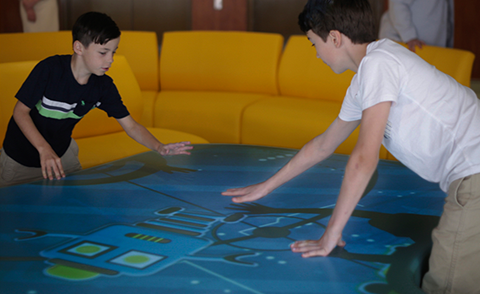 TableFX©
TableFX turns an ordinary horizontal surface into an interactive table, bar or countertop, projecting incredible interactive advertising, games, images and special effects for the enjoyment of patrons. With effects similar to GroundFX, TableFX is perfect for nightclubs, restaurants and location-based entertainment venues. Tables can also be delivered with multi-touch capability, for collaborative and multi-user experiences.
Cube© v5
Looking for a compact, turnkey, 'plug and play' interactive display unit? The Cube projects an interactive 100" diagonal display (up to 130") onto any floor. It's portable, less costly than a permanent component system, and comes with the same great GestureFX applications and games. GestureTek and its resellers use the CUBE to create amazing content that immerses users in interactive floor projections for any environment.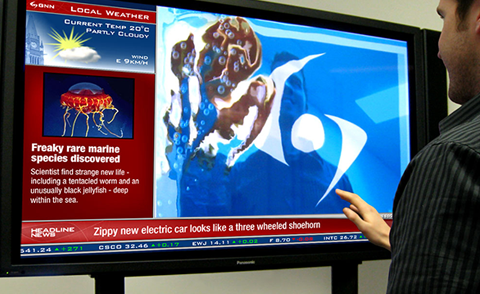 ScreenXtreme©
ScreenXtreme revolutionizes public space advertising and entertainment. This immersive interactive digital signage and display solution transports people's real-time images right into the heart of a digital display, advertisement or computer-generated environment. People see themselves onscreen as they control dynamic images, advertisements, games and special effects. They become completely engaged in an immersive full-body experience as they interact with the onscreen content.
---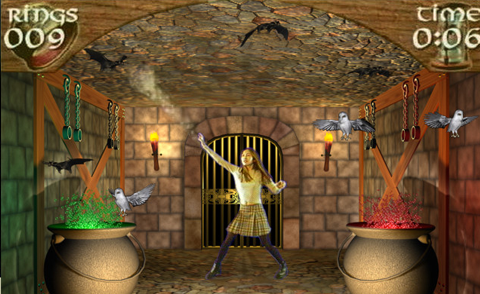 GestureXtreme©
The GestureXtreme virtual world gaming experience transports your image into a computer-generated landscape. See yourself onscreen as you maneuver a thrilling adventure simulation or interact with onscreen characters and objects in real time. Your body motion controls the program, giving you an unencumbered full-body immersive experience. GestureXtreme works with or without green screens, so you can install it nearly anywhere to deliver a "Wii-like" gaming experience with no special gear or equipment required.
More than 1,000 GX virtual gaming systems, edutainment games and adventure simulations are currently installed in museums, science centers, amusement parks, tourist attractions, sports halls of fame, retail stores, restaurants, hotels, location-based entertainment facilities and other public spaces worldwide.
---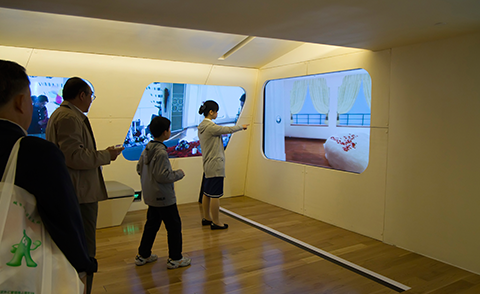 GestTrack3D©
GestureTek is proud of its GestTrack3D SDK, the first patented 3D gesture control software. GestTrack3D lets you control interactive displays and digital signs from a distance with hand and full body gestures. Navigate 3D game worlds, & interact with virtually any computer system or public display without ever touching it. GestTrack3D's robust tracking enables device control through a wide range of gestures and poses. GestTrack3D is the perfect solution for pixel accurate, reliable, off-screen computer control in interactive environments because the user does not have to stop to be measured or calibrated with the system, but instead can walk up and begin interacting right away.
The GestTrack3D Hand Tracker drives touch-free cursor control on Windows-based applications by measuring the position of a user's hand(s) within an adjustable volume and distance from the camera. The tracker can follow one hand or two hands to create a multi-touch mode, and can track the XYZ coordinates of up to ten hands simultaneously. The multi-tracker detects multiple data points on the user's body (head, torso, hands). The tracker can recognize circle and swipe gestures and can support activities such as scrolling, enlarging, shrinking or rotating items. Tracking gestures have been used to control 3D navigation, as well as joystick, driving and drumming simulations.
Multi-Touch© Product Line
---
---
---
---
Want to Know More?
Please go to our contact form here